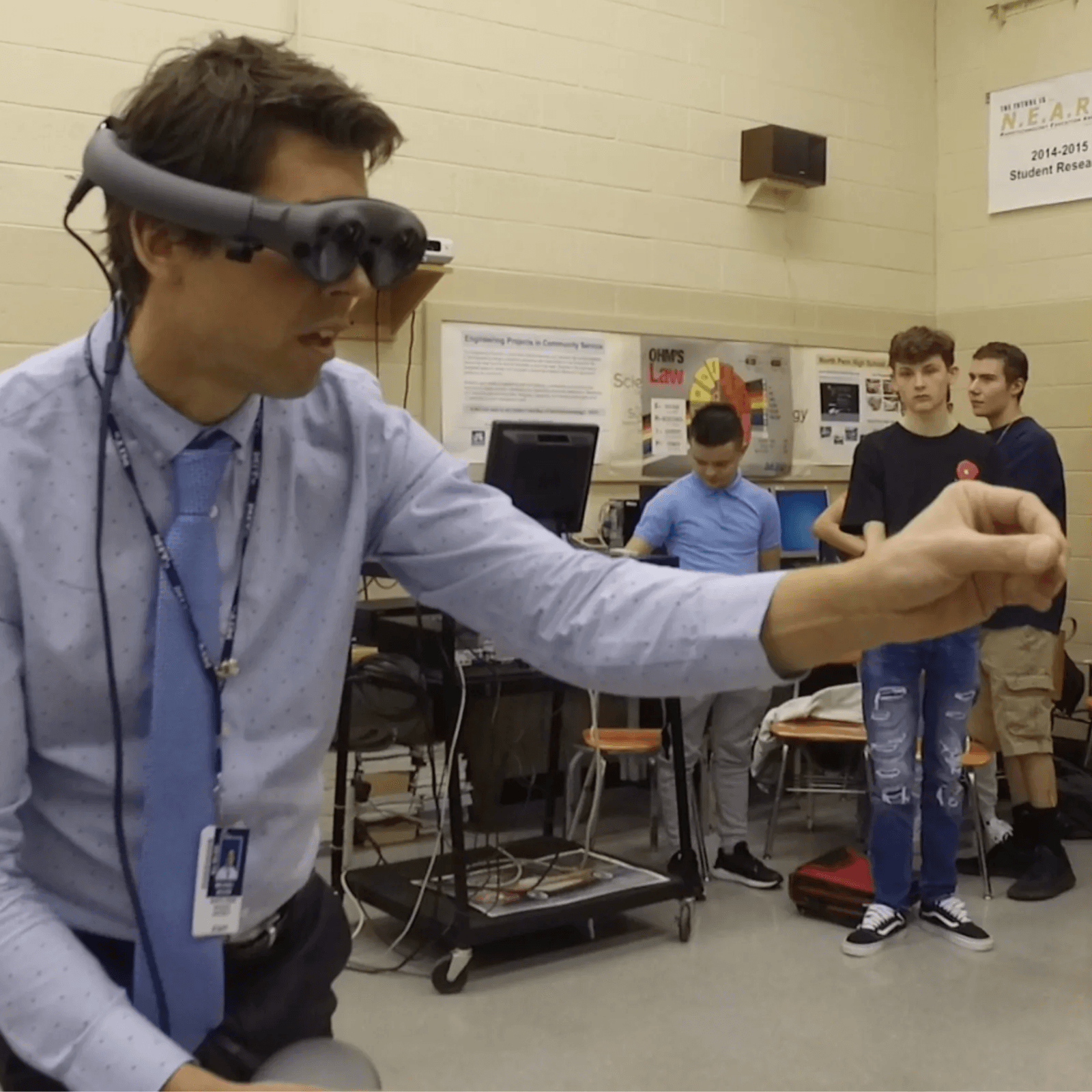 North Penn School District (NPSD) and the NPSD Educational Foundation, together with Notiontheory, a global leader in XR education and solutions, and Unity, the world's leading real-time 3D development platform, announced today the launch of North America's first Spatial Computing Program at a high school level. The course will provide North Penn High School students with Augmented Reality and Virtual Reality development experience beginning in the 2021-2022 academic year.
The new Spatial Computing Program offered at North Penn High School, starting August 2021, will provide students with the unique opportunity to learn how to design, develop, and publish Augmented Reality (AR) and Virtual Reality (VR) applications. The emerging technology areas of AR and VR have seen widespread adoption and explosive growth across almost every industry imaginable, with a study recently released by PwC stating that the combined value of AR and VR could add $1.5 trillion to the global economy over the next 10 years. The potential of this value-add to the global economy, along with a recent study from Burning Glass that found the demand for real-time 3D skills has grown 601% faster than the market overall, signals a clear shift in employment needs as emerging technologies continue to mature at an accelerating pace.
"Today's announcement of the Spatial Computing Program marks a major milestone in our vision to provide North Penn High School students with the foundation and knowledge they need to be prepared for the jobs of tomorrow. By partnering with two world-class institutions in Notiontheory and Unity, our students can be confident they are receiving best-in-class technical instruction with the latest cutting edge technology", said Dr. Curtis R. Dietrich, NPSD Superintendent. "This program is yet another example of the hard work constantly underway from our staff to elevate the standard of education for all North Penn High School students."
NPSD is partnering with the NPSD Educational Foundation to fund the groundbreaking program for students. This Spring, the Foundation approved the largest grant in its history for $65,000 to fund the technology needed for the spatial computing course beginning in the 2021-2022 academic year. The Foundation has a long history of supporting technology education through NPSD's 18 schools. 
The Spatial Computing Program at North Penn High School will incorporate the following key functions:
Tailored Curriculum — custom curriculum has been designed by Notiontheory and Unity to provide North Penn High School students with the knowledge necessary to design, develop, and publish AR and VR applications that meet industry standards and needs.
Technical Proficiency — throughout the program, students will acquire skills in the areas of scripting, audio, animation, lighting, and other core spatial computing concepts to enable them to create transformative AR and VR applications.
Platform Readiness — in addition to their knowledge of building AR and VR applications, students will receive exposure to the latest cutting edge technology across various industry-standard devices and platforms made available through North Penn High Schools' new Spatial Computing Lab.
Validated Learning — students will have the opportunity to sit for the Unity Developer Certification exam following the completion of the Spatial Computing Program to demonstrate their mastery of game engine development with Unity, the world's leading platform for interactive, real-time 3D content.
"It's exciting to see North Penn School District bring spatial computing studies and real-time 3D development to their secondary education students. The world is changing, consumers demand higher fidelity, more personalization and interactivity. By engaging in this program, North Penn students will learn the skills needed to be the creators of this exciting technology, not just the consumers", said Melissa Oldrin, Head of Global Education Programs at Unity. "I look forward to seeing how North Penn might influence other secondary education schools to develop similar learning opportunities for their educators and students."
"We view our collaboration with North Penn High School and Unity to bring real-time 3D technologies and AR/VR education to high school students as one of our most important partnerships. The significance of the Spatial Computing Program can't be overstated and we're elated to have a partner in North Penn High School that clearly recognizes the need to prepare students for careers in an ever-evolving technology market to help them stay competitive in the future workplace", said Kristian Bouw, Chief Scientist at Notiontheory. "It's an honor to be able to help launch the first Spatial Computing Program in North America and we look forward to seeing the transformative ideas that will come from the North Penn High School students."
About the NPSD Educational Foundation
The NPSD Educational Foundation, a 501c (3) corporation, is a collaborative effort among individuals committed to enriching the education and lives of more than 13,000 students in each of the North Penn School District's 18 schools, every single day. Often referred to as "the Foundation", its mission is to motivate and inspire students and staff in the North Penn School District through innovative projects and opportunities that enhance educational experiences and resources. For more information, please visit www.npennedfoundation.org. 
About North Penn High School
NPHS is one of 18 schools in the North Penn School District. Located in Lansdale, Pa, a suburb of Philadelphia, NPHS is one of the largest 10th through 12th grade schools in the state. Its diverse and talented student body annually earns accolades and national recognition in academics, athletics and activities. For more information, please visit nphs.npenn.org. 
About Notiontheory
Notiontheory is an industry leader of augmented reality (AR) and virtual reality (AR) education, training, and solutions. Notiontheory partners with academic, government, and enterprise organizations globally to drive the adoption and integration of spatial computing technologies (AR/VR) to improve workforce, research, experience, and educational outcomes. For more information, please visit www.notiontheory.com. 
About Unity
Unity is the creator of the world's leading real-time 3D development platform, giving users the most powerful and accessible tools to create, operate, and monetize experiences for the real-time world. Unity empowers anyone, regardless of skill level and industry, to create 3D visual content using world-class technology, operate using resources that maximize ease-of-use, and monetize, so that they can find success with their creations. The company's 1,000 person development team keeps Unity at the forefront of development by working alongside partners such as Google, Facebook, Oculus, Autodesk, and Microsoft to ensure optimized support for the latest releases and platforms. Made with Unity experiences reach nearly 3 billion devices worldwide and have been installed more than 34 billion times in the last 12 months. For more information, please visit www.unity.com.