North Penn Strong Community Build-A-Bag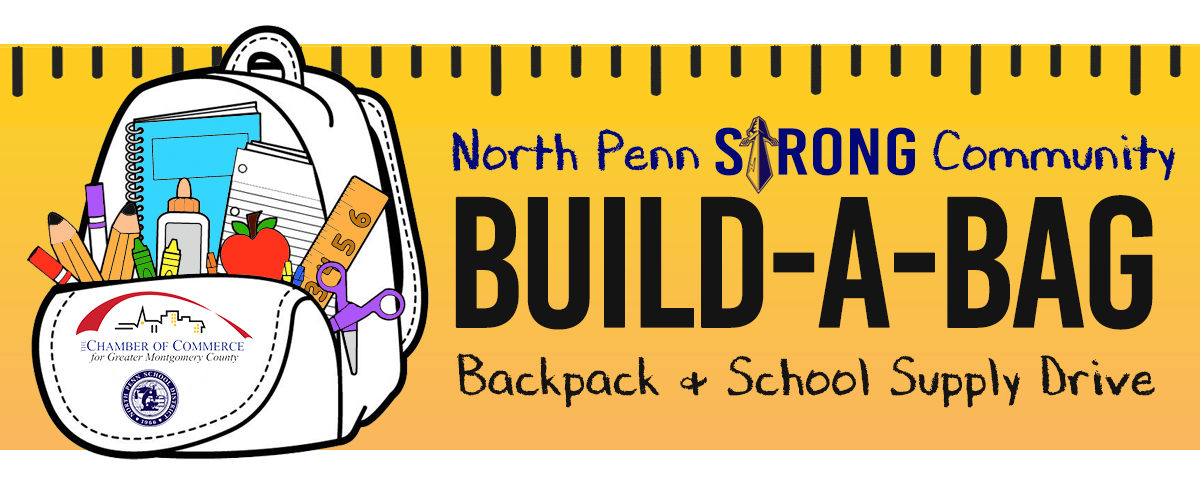 Every year, many families in the North Penn community need help providing basic school supplies for their children. As we approach the first day of school after a year unlike any other, it's no doubt that things will look different this year at school. During these uncertain times, our families in need are counting on us now more than ever to help them adapt. To continue our efforts in making sure every student has equal access to a North Penn education, we will once again be holding our backpack and school supply drive.
In partnership with the Chamber of Commerce for Greater Montgomery County, and with the help of our community, our goal is to provide 175 filled backpacks to be privately and anonymously given to students by school staff at the beginning of the school year and throughout as needed.
To ensure enough time to sort and inventory supplies, fill backpacks & distribute to families, please note that the drive ends on Monday, August 16!
How to Get Involved

Shop from home and have supplies delivered directly to us! Click for an easy-to-use registry of school supplies needed.

Where to Drop Off School Supply Donations
Below is a list of local businesses and organizations that have partnered with us to serve as donation sites. You may visit any of the locations below to drop off school supplies for the drive (view list of items needed here). This list has been developed and reviewed by North Penn teachers and administrators. For this reason, we ask that you do your best to stick to the list provided when purchasing donations.
NPSD Educational Services Center, 401 E. Hancock St. Lansdale, PA 19446
Images Salon, 540 Cowpath Rd suite 140 Hatfield, PA 18966
Homewood Suites by Hilton, 1200 Pennbrook Parkway Lansdale, PA 19446
BZ Orthodontics, 456 E. Hancock Street Lansdale, PA 19446
St. Peter's Lutheran Church, 211 South Main Street North Wales, PA 19454
State Rep Todd Stephens, 515 Stump Road North Wales, PA 19454
Danette M Reid Insurance Agency Inc, 981 N Wales Rd #10 North Wales, PA 19454
Bacco Italian Restaurant, 587 DeKalb Pike North Wales, PA 19454
QNB Bank, 127 Bethlehem Pike Colmar, PA 18915
Montgomery Township, 1001 Stump Rd Box 68 Montgomeryville, PA 19440
J.L. Freed Honda, 685 Bethlehem Pike Montgomeryville, PA 18936
Pritchard, Bieler, Gruver & Willison, P.C., 590 Bethlehem Pike, Suite A Colmar, PA 18915
Univest Bank
990 Bethlehem Pk Line Lexington, PA 18932
986 Bethlehem Pk Montgomeryville, PA 18936
694 Dekalb Pike Blue Bell, PA 19422
120 Forty Foot Rd Hatfield, PA 19440
16 Harbor Place Souderton, PA 18964
11 AM Salon, 837 W. Main St. Lansdale, PA 19446
North Penn YMCA, 608 E Main St Lansdale, PA 19446
Stephanie Moyle, Senior Mary Kay Consultant, 110 Coventry Circle Lansdale, PA 19446
Backyard Beans Coffee Company, 408 West Main Street Lansdale, PA 19446
Harleysville Bank
1550 Cowpath Rd Hatfield, PA 19440
640 East Main St Lansdale, PA, 19401
How to Volunteer
There will be an opportunity for community members to volunteer to help with sorting supplies and building bags. Please check back for more information about this soon.
Questions?
For any questions relating to the North Penn Strong Community Build-A-Bag Backpack and School Supply Drive, please contact Virginia Higgins at higginvp@npenn.org.