U-Knight to Inspire Staff Giving Campaign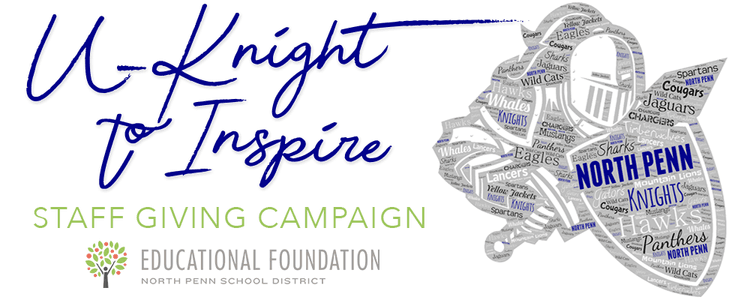 About the Campaign
The new school year has brought fresh starts, excitement, and new possibilities as we continue to grow as individuals and as a district. As we begin the annual employee donation drive to benefit the NPSD Education Foundation, we are looking to surpass the $16,788 you gave last year, which was great but we think we can do even better this year! 
It is that time of year for the annual employee donation drive to benefit the NPSD Educational Foundation, which has funded innovative projects in NPSD schools and fundamental needs in the NPSD school community.
The campaign runs from October 1 until November 1. Your support is important. Remember, since 1988, the Foundation has directly supported our students and staff by funding well over $1 million in innovative programming.
 
How to Donate

Staff members can elect to donate $5, $10, or whatever amount you'd like per paycheck over the course of 15 pay periods beginning November 4 and ending May 19.


Make a one-time donation online via credit/debit card or e-check.


To make a one-time donation using a check or cash, please print the pledge form above. Please send this form to Christine Liberaski via the courier, postal mail or by dropping it off at the ESC.


12-month employees may donate a vacation or personal day. If you're a veteran employee and have a bank full of unused days, this is a great way to use them up while giving back!
Get Rewarded for Your Donation
What makes the campaign even more exciting is that everyone who donates a minimum $75 (example, $5/paycheck over 15 pay periods) will be eligible for raffle prizes. There are 4 premium prizes available and the more you donate, the more raffle chances you will earn to enter for the prize(s) of your choosing! Additionally, everyone who donates a minimum of $5 will receive a gift from the Foundation. AND, the school/building/department with the highest participation rate will receive a personal day to raffle off among employees who donated!
As your donation increases, so do your chances:
• $75 - $149 donation = 1 chance to win the gift of your choice
• $150 - $224 donation = 2 chances to win the gift(s) of your choice
• $225 - $299 donation = 3 chances to win the gift(s) of your choice
• $300 and over donation = 4 chances to win the gift(s) of your choice
Prize Options
2 Tickets & Parking Pass to Eagles vs. Washington Commanders

Go Birds! Head down to Lincoln Financial Field with two (2) tickets in section 108 and a parking pass to the Philadelphia Eagles vs. Washington Commanders. Game day is 11/14/22 at 8:15 PM.

Yeti Hopper M30 2.0 Cooler

The Yeti Hopper M30 2.0 is excellent for hauling refreshments for several people and an entire day of fun! It holds 26 beverage cans!

2 Inflatable Paddle Boards

Explore an adventure on the water with 2 FunWater Inflatable 10'6x33"x6" Ultra-Light Paddlebaords. FunWater paddle boards are for all skill levels. Each inflatable paddle board includes a stand-up paddle board, adjustable floating paddles, pump, ISUP travel backpack, leash, and waterproof bag.

6 Person Private Party Charcuterie Workshop

Enjoy a fun-filled evening with 6 of your closest friends and family while learning the art of charcuterie! Board and Slate will teach the workshop in your home and all items for the board are included.