The North Penn School District Educational Foundation
Igniting Student Success
About the Foundation
The North Penn School District Educational Foundation, a 501c (3) corporation, is a collaborative effort among individuals committed to enriching the education and lives of more than 13,000 students in each of the North Penn School District's (NPSD) 18 schools, every single day.
Often referred to as "the Foundation," our mission is to motivate and inspire students and staff in the North Penn School District through innovative projects and opportunities that enhance educational experiences and resources.
Providing Classroom Grants
Since 1988, NPSD educators have been applying for grants that support and complement their subject area's curriculum and create innovative student engagement which leads to improved learning and comprehension. The variety of grants cover every core curriculum area and dozens of diverse, specialized areas of educational enrichment.
The students at NPSD have a hunger for cutting edge, creative innovation that is matched by the staff's desire to provide it for them. Grants funded by the NPSD Educational Foundation bring this innovation to life through classroom equipment, field trips, project materials, program software, guest speakers and so much more. Although the projects completed through these grants vary, one thing remains the same: everyone's enthusiasm and creativity for enriching students' lives.
Closing the Opportunity Gap
The NPSD Educational Foundation is also dedicated to closing the opportunity gap for students and families at NPSD to ensure that every student has equal access to all of the opportunities to succeed at North Penn. By funding resources like internet access at home for families in need and leading events like the North Penn Community Backpack and School Supply Drive, the Foundation is committed to preparing and empowering every student at North Penn, every day.
While the NPSD Educational Foundation and the North Penn School District are separate entities, both organizations work together as partners in support of igniting student success. The Foundation's board consists of trustees from a broad segment of the community who volunteer their time and expertise to raise the funds and awareness needed to support the Foundation's mission.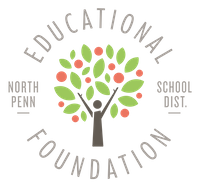 About NPSD
North Penn School District is located in Southeastern Pennsylvania, approximately 20 miles north of Philadelphia in Montgomery County. The district encompasses 42 square miles and has a total population of more than 95,000 residents. These residents reside in Hatfield, Lansdale and North Wales boroughs, Hatfield, Montgomery Towamencin and Upper Gwynedd townships and the village of Line Lexington. Currently, the district consists of 13 elementary schools, three middle schools, one high school and one alternative education school. NPSD employs approximately 2,000 staff members.