North Penn Strong Community Build-A-Bag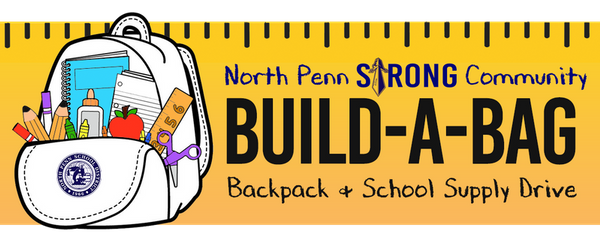 Every year, many families in the North Penn community need help providing basic school supplies for their children. During these uncertain times, our families in need count on us now more than ever to help them adapt. To continue our efforts in making sure every student has equal access to a North Penn education, we recently held our backpack and school supply drive. Due to increased need and changes in our everyday life - our drive, much like our school year, looked a little different than years' past.
With the help of the North Penn community, we executed a drive in just three weeks that typically takes three months! Supplies, donations and helping hands were provided by our fellow knights and neighbors to build 400 backpacks filled with school supplies that were privately and anonymously given to elementary and secondary students in need by school staff.
Once again, we are humbled and grateful - but never surprised - by the outstanding response from our community partners. Together, we are and will always be #NorthPennStrong. And we simply couldn't do it without you.
83 donations were made online, by cash or check raising $6,704
1,303 North Penn Strong clothing items were sold raising $4,289
1,864 items were purchased and donated from our online registry at Target

158 items

 were purchased and donated from our online registry at Walmart
Countless supplies were dropped off at the NPSD Educational Services Center
Costco in Montgomeryville provided all of our elementary backpacks + $100 gift card
Dick's Sporting Goods in Lansdale gave us a great discount on secondary backpacks
J.L. Freed Honda donated its former showroom to use as a storage and sorting facility
Various NPSD employees, members of the NPSD Board of School Directors and the Foundation's Board of Trustees purchased and delivered last-minute supplies
The Foundation Board of Trustees joined forces with community members who volunteered their time to help build and deliver 400 backpacks for students in need!