North Penn Strong Community Build-A-Bag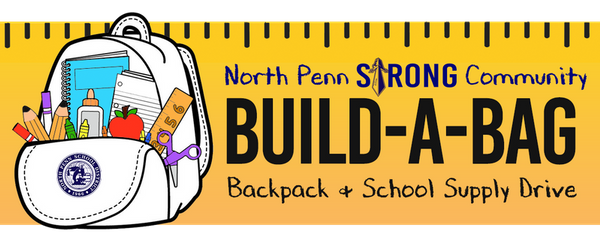 Every year, many families in the North Penn community need help providing basic school supplies for their children. As we approach the first day of virtual learning, it's no doubt that things will look different this year at school. During these uncertain times, our families in need are counting on us now more than ever to help them adapt. To continue our efforts in making sure every student has equal access to a North Penn education, we will once again be holding our backpack and school supply drive. However, due to increased need and changes in our everyday life - our drive, much like our school year, will look different.
We introduce to you the #NorthPennStrong Community Build-a-Bag Backpack & School Supply Drive.
With the help of our community, our goal is to provide 275 filled backpacks to be privately and anonymously given to students by school staff at the beginning of the school year and throughout as needed.
How to Get Involved

Where to Drop Off School Supply Donations
School supplies can be dropped off at the NPSD Educational Services Center, located at 401 E. Hancock St. Lansdale, PA 19446. Office hours are Monday through Friday from 8:00 am to 4:00 pm. Donation bins will be located inside the vestibule of the main entrance, so you will not need to ring the doorbell to enter the building. To adhere to social distancing regulations, we ask that all donations are placed in this designated area.
You can find supply lists with items that will be included in donated backpacks at the link above. These lists have been developed and reviewed by teachers and administrators. Please note that items donated that are not on this list will likely not be used in this drive. For this reason, we ask that you do your best to stick to the lists provided below when purchasing donations.
How to Volunteer
There will be an opportunity for community members to volunteer to help with sorting supplies and building bags. Please check back for more information about this soon.
Questions?
For any questions relating to the North Penn Strong Community Build-A-Bag Backpack and School Supply Drive, please contact Kaity Andrey at andreykm@npenn.org. For questions relating to the North Penn Strong clothing sale, please contact The Ram King at theramking@gmail.com.