U-Knight to Inspire Staff Giving Campaign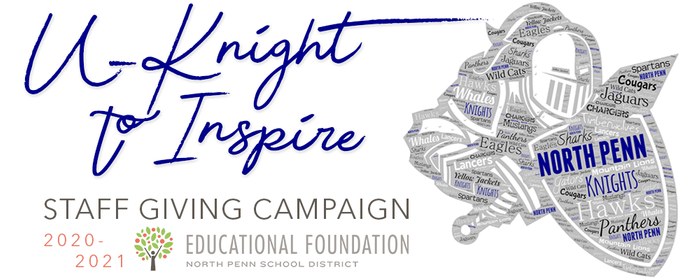 About the Campaign
It is an understatement to say that 2020 has had its challenges. We have worked together to adapt and make our North Penn community strong. It was no small task and the NPSD Educational Foundation was there to fund mobile hotspots so NP students could stay connected and receive a stellar NP education. As we begin the annual employee donation drive to benefit the NPSD Education Foundation, we are looking to surpass the $23,000 raised last year, which was great but we think we can do even better this year! 
It is that time of year for the annual employee donation drive to benefit the NPSD Educational Foundation, which has funded innovative projects in NPSD schools and fundamental needs in the NPSD school community.
The campaign runs from October 1 until November 1. Your support is important. Remember, since 1988, the Foundation has directly supported our students and staff by funding well over $1 million in innovative programming.
 
How to Donate

Staff members can elect to donate $5, $10, or whatever amount you'd like per paycheck over the course of 15 pay periods beginning November 6 and ending May 21.


Make a one-time donation online via credit/debit card or e-check.


To make a one-time donation using a check or cash, please print the pledge form above. Please send this form to Christine Liberaski via the courier, postal mail or by dropping it off at the ESC.


12-month employees may donate a vacation or personal day. If you're a veteran employee and have a bank full of unused days, this is a great way to use them up while giving back!
Get Rewarded for Your Donation
What makes the campaign even more exciting is that everyone who donates a minimum $75 (example, $5/paycheck over 15 pay periods) will be eligible for raffle prizes. There are 6 premium prizes available and the more you donate, the more raffle chances you will earn to enter for the prize(s) of your choosing! Additionally, everyone who donates a minimum of $5 will receive a gift from the Foundation. AND, the school/building/department with the highest participation rate will receive a personal day to raffle off among employees who donated!
As your donation increases, so do your chances:
• $75 - $149 donation = 1 chance to win the gift of your choice
• $150 - $224 donation = 2 chances to win the gift(s) of your choice
• $225 - $299 donation = 3 chances to win the gift(s) of your choice
• $300 and over donation = 4 chances to win the gift(s) of your choice
Prize Options
Chick-Fil-A & Chardonnay


Enjoy one year of Chick-fil-A with 52 meal card vouchers to be used over the course of a year and wine tasting for two at Bishop Estate Vineyard and Winery along with a bonus bottle of wine.

iPhone X


Stay connected with family and friends, take professional looking photos in portrait mode, or play Candy Crush with a new Apple iPhone X.

Forget the Laundry & Pamper Yourself


MyMobile Laundry will pick-up, wash, dry and even fold your laundry before returning it to you with this $200 gift card. This will give you plenty of time to enjoy a $200 gift card to Rapunzel's Salon and Spa!

Dinner Time & Courageous Conversations


Includes gourmet pasta and pasta sauce, flatbread crackers, peach spread, cheese spread, Italian dry salami, veggie roaster seasoning blend, a bottle of wine and a gift card to the Black Reserve Bookstore

Celebrating Our Diversity


Read and enjoy snacks, treats and spices from around the world representing students in the North Penn community. This prize includes a gift card to local authentic Thai restaurant, Mama Thai; and a book called "When the Stars are Scattered" by Pennsylvania authors Victoria Jamieson and Omar Mohamed.

Virtual Teaching Self-Care


Kick off the relaxation with a gift card to Rose Bridge Farm Sanctuary for baby goat feeding, donkey snuggling and lamb lovin! This prize also includes coffee from local shop Backyard Beans, coffee mug, lemon ginger tea, pumice stone, hand cream,lavender essential oil towelettes, chocolate, and a ginger lime mixer!